Drive Sales Growth Using Salesforce CPQ & Tableau CRM
Every Business works with Aim to increase sales and has specific sales targets and KPI's. An organization's sales team uses elbow grease to achieve them. We have many tools in the market which help to get good deals and get reach Targets for the business. One of the best tools in this area we can call Salesforce CPQ software.
Salesforce CPQ software is used by various organizations to provide accurate pricing with any given product configuration scenario.
Tableau CRM (primarily Salesforce Einstein Analytics) is an app that is used to visualize the activity occurring in a sales environment. Tableau CRM offers insights into data (like contacts, campaigns, or accounts) and what your users add to the CRM every day.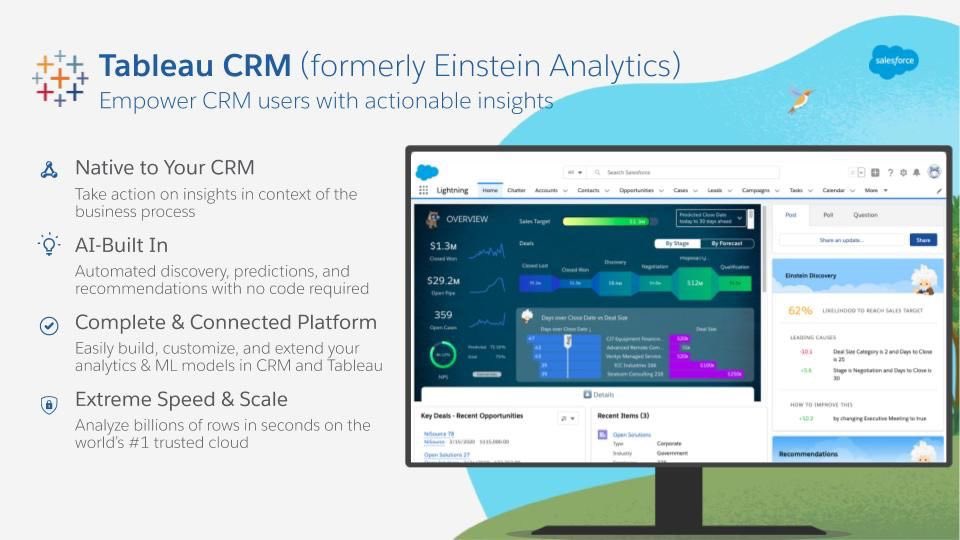 Because Salesforce CPQ is built upon Tableau CRM, it enhances your Quote-to-Cash software implementation, provides winning deals faster, and offers automated billing.
How Tableau CRM Benefits the CPQ Business
Sales Cloud Einstein revolves around sales processes and management.
CPQ is all about quoting, pricing, and billing. Sales teams use Salesforce CPQ to quickly create accurate quotes without dealing with confusing spreadsheets, tedious data entry, and searching for emails.
Below are some of the benefits of adding Tableau CRM to CPQ.
1) Faster the CPQ Implementation Process
Tableau CRM enables professional service teams to implement CPQ faster. It makes the sales process more time-efficient by reducing wasted time in figuring out quotes and pricing.
The Aim of Tableau CRM is that one can start with existing implementations, apply an AI layer, and enable it to read current as well as future development and data. This layering structure allows the Salesforce CPQ to pick up new solutions much faster than a human.
When a new product or process is being introduced, the implementation time is significantly reduced. Salesforce Einstein Analytics has a pre-stored algorithm mechanism. This eliminates the redundancy procedure of starting from scratch.
2) Shorter Deal Life Cycle
In sales, Salesforce Einstein Analytics aims at a shorter sales cycle and scoring more deals. Sales managers can easily learn about what changes are made in the opportunity pipeline in real-time. Viewing this data, sales managers can accurately forecast new deals.
Salesforce Einstein Analytics helps evaluate trends and opportunity categories for the growth of the sales pipeline and provides a list of opportunities to work on, all within the application.
The changes in the sales process automatically reflect the dashboards and data.
3) Sales Einstein Forecasting
Einstein's predictive forecasting feature enables the sales manager to estimate sales and revenue.
Forecasting dashboards allow users to set up a sales period and prepare for the future quarter and learn when expected deals will close.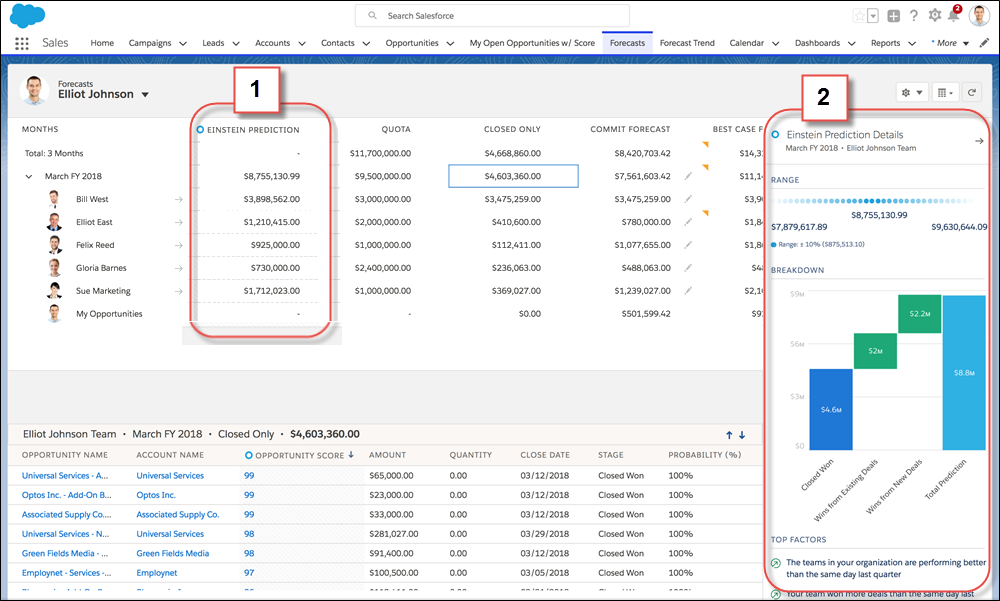 Tableau CRM has a notification feature that intimates when changes in pipelines quantity or modifications in deals occur. It also provides datasets perspective ability, which helps the sales team to get ready with an effective sales process and prepare for bottlenecks.
4) White space Analytics
White space analysis helps to identify new sales opportunities within an existing customer account. … It is used to identify the gap between the products or services your customers have invested in, and other products or services you can possibly sell to them..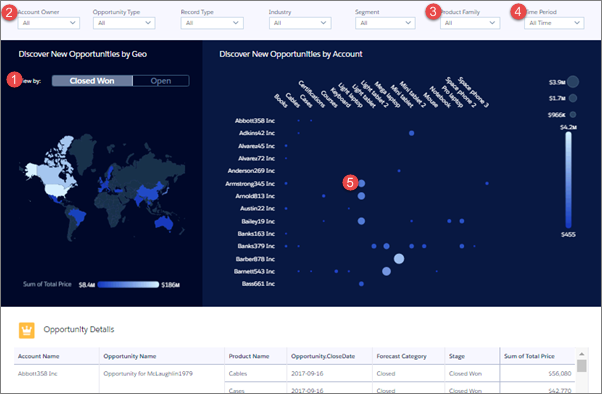 Salesforce Einstein Analytics provides the best scenarios prospectively and retrospectively to make the sales process human-like.
It helps increase sales revenue, automates trends, and prepares for future market needs.
Einstein Journey Insights is among the popular features of Salesforce Einstein Analytics, as it predicts the most effective marketing touchpoints and the optimal sequence of events for lead conversion in Salesforce to improve marketing ROI.
Thanks for Reading..
Jay